Vitamin E + Essential Fatty Acids (3,6,9)
For Cognitive and Mood Health, and Strong Immune System

Improve your mood, cognitive functions, and cardiovascular health with our formula of essential fatty acids and Vitamin E. Fatty acids have been proven to improve skin and joint health, helping to slow down the ageing process, while Vitamin E contains potent antioxidants that protect the body from toxins.
Essential Fatty Acids (EFA) are a special group of polyunsaturated fatty acids that are not produced by the body; however, they are essential to cell and body functions. Since most of us do not get enough of these natural fatty acids in our diet, supplements help boost our intake.

Quantity
60 Vegan Capsules
Key Information
Raw Whole Food Supplement, Organic Fruit and Vegetable Blend, Allergen-Free. The blend has been tested and proven to be far superior in terms of nutrient absorption, retention and utilization within the body to deliver optimal levels of: *Cognitive & Mood Health *Cardiovascular Health *Strong Immune System *Energy Production *Anti-oxidant Booster. Suitable for vegetarians/ vegans.
Preparation
Suggested Use: Adults take 2 capsules daily. May be taken with or without food. Capsules may be opened and contents added to water or raw juice. Not intended for children.
Storage
Keep out of reach of children. Store in a cool, dry place. Do not use it if the safety seal is broken or missing.
Supplement Facts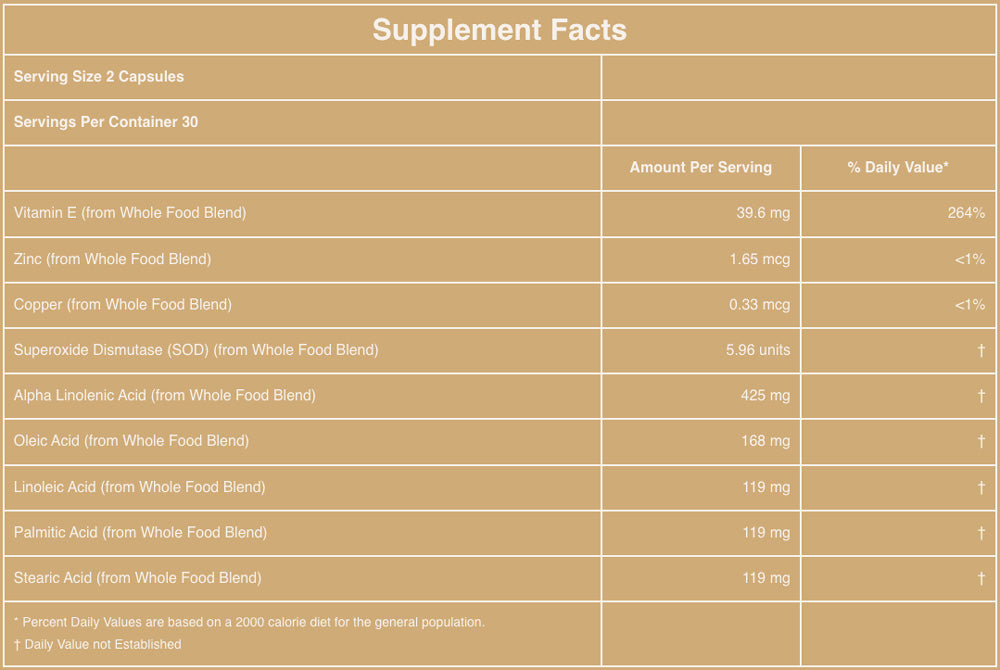 Disclaimer
This information sheet is not intended to replace the services of a physician, nor does it constitute a doctor-patient relationship. Information is provided for informational purposes only and is not a substitute for professional medical advice. You should not use the information contained herein for diagnosing or treating a medical or health condition. If you have or suspect you have an urgent medical problem, promptly contact your professional healthcare provider. Any application of the recommendations on our website is at the reader's discretion. Biocomm® and Nu-Format® and are not liable for any direct or indirect claim, loss or damage resulting from use of this information. Readers should consult their own physicians concerning the recommendations.
In stock, ready to ship

Inventory on the way