For Stronger Cardiovascular Health
This essential health formula contains krill oil, which is an extract from a species of Antarctic krill, Euphausia superba. When ingested, it delivers EPA/DHA, phospholipids, and choline to the body, where they work individually and in combination: i) as vital constituents in the structure and functioning of cells; ii) for assisting in the balancing of bodily functions; and iii) to address their deficiencies in health conditions related to the heart, brain, inflammation, immunity, liver, etc.

Krill oil is a supplement that is rapidly gaining popularity as an alternative to fish oil, and getting a healthy heart is central to overall good health. Embracing a healthy lifestyle at any age can prevent heart disease. Krill oil is made of key nutrients such as Omega-3, phospholipids, choline, and astaxanthin.
Quantity
90 Vegan Capsules
Key Information
*Improves cardiovascular health *Choline contributes to normal lipid metabolism * Increases Omega-3 index, minimizes the risk of heart diseases EPA and DHA contribute to normal heart functions by maintaining triglyceride levels. Suitable for vegetarians/vegans.
Preparation
Direction: as a dietary supplement, take three (3) soft gels daily. Warning: People with shellfish allergy, coagulopathy or taking anticoagulants or physician and be tested prior to taking dietary supplements. Not recommended to children under 3 years of year. Noted: If pregnant, lactating or on prescribed medication, consult your physician before using this product.
Storage
Keep out of reach of children. Store in a cool, dry place. Do not use it if the safety seal is broken or missing.
Supplement Facts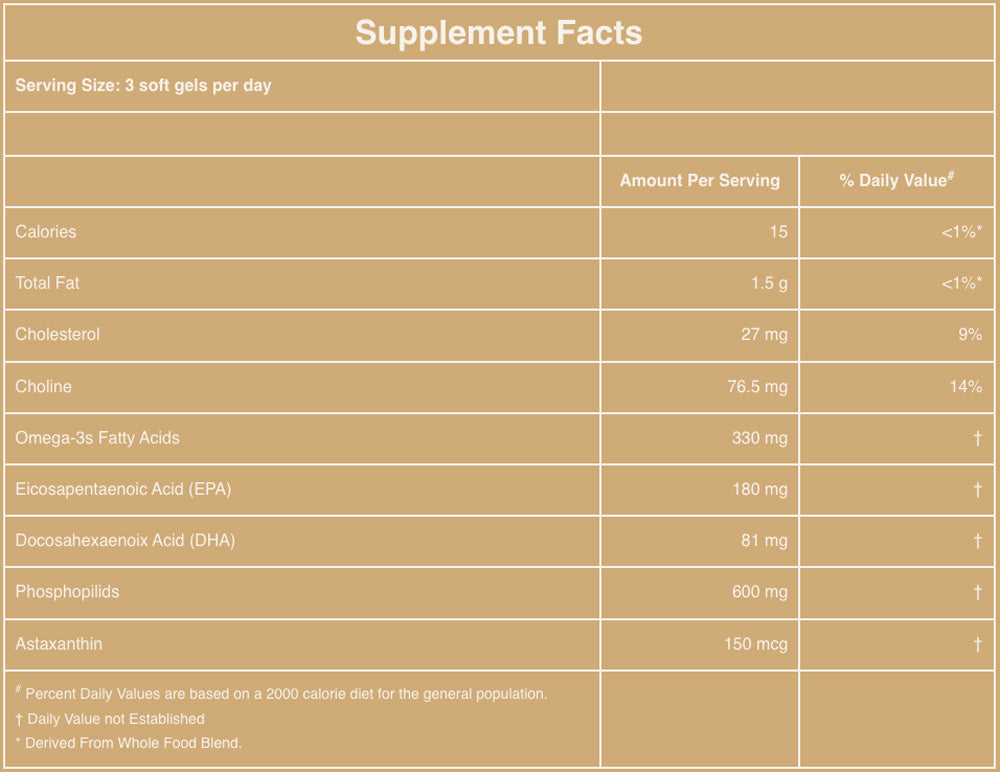 Disclaimer
This information sheet is not intended to replace the services of a physician, nor does it constitute a doctor-patient relationship. Information is provided for informational purposes only and is not a substitute for professional medical advice. You should not use the information contained herein for diagnosing or treating a medical or health condition. If you have or suspect you have an urgent medical problem, promptly contact your professional healthcare provider. Any application of the recommendations on our website is at the reader's discretion. Biocomm® and Nu-Format® and are not liable for any direct or indirect claim, loss or damage resulting from use of this information. Readers should consult their own physicians concerning the recommendations.
In stock, ready to ship

Inventory on the way